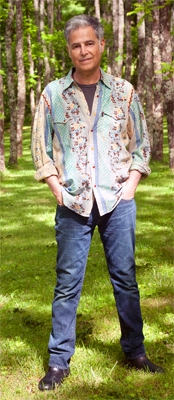 Jim Photoglo has musically spanned four decades as both a songwriter and artist, bringing his unique creative voice to the R&B, Pop and Country arenas. Growing up in Los Angeles, he began playing in bands as a teenager but never considered music as a "career" until he was in his early 20's. Photoglo reminisces, "I wanted to get out of L.A., so I took to the highway 'James Taylor' style with an acoustic guitar, a sleeping bag and a lot of time to think…and all I thought about was music."
Returning to Los Angeles with music as a career goal, Photoglo began paying the usual dues. He took every kind of gig from playing in a funeral band to putting together a group to back John Belushi's "Joe Cocker" imitation at a party for Paul McCartney.
His solo career took off when he was signed to the Twentieth Century Fox label in 1979, culminating in a pair of Pop hits: We Were Meant To Be Lovers in 1980 and Fool in Love With You in 1981. Photoglo hit the TV talk show circuit, toured the Orient twice, and opened for the Beach Boys on a national tour. By the time his third album was released, the financially- troubled Fox label was unable to properly launch the project, and once again Photoglo took to the road.
He spent the next 2 years singing back-up for Andy Gibb, and concentrating on songwriting. His influences were diverse: the behind-the-scenes writers of the Brill Building (Mann and Weil, King and Goffin) and Motown, to writer-artists like the Beatles, the Young Rascals and the Rolling Stones. Photoglo's eclectic style fostered recordings by a variety of artists, including James Ingram and the Everly Brothers.
While enjoying this sabbatical from recording, his songs began to catch fire with the creative "powers-that-be" in post-"Urban Cowboy" Nashville. Before he knew it, he had cuts with Kenny Rogers, Marty Robbins, Gary Morris and Brenda Lee. Further encouraged by good friend Wendy Waldman, a fellow L.A. popster who'd recently relocated and was enjoying a few country hits of her own, Photoglo moved to Music City in 1984 to pursue a full-time career as a songwriter. He took the occasional tour as a bassist for the likes of Carole King, Vince Gill and Dan Fogelberg, but his main focus was songwriting, successfully quadrupling his creative output over the next few years.
His devotion to his craft paid off with recordings by Garth Brooks, Faith Hill, The Everly Brothers, Dusty Springfield, Leroy Parnell, Patty Loveless, Highway 101, The Oak Ridge Boys, Pam Tillis, Tanya Tucker, Travis Tritt, Neil McCoy, John Anderson and Kathy Mattea. Four of those recordings ended up in the Top Ten of Billboard Magazine's Country Music Charts, and two went to Number One: the now-classic Fishin' In The Dark by the Nitty Gritty Dirt Band, and Hometown Honeymoon by Alabama.
By the early 90's, Photoglo was ready to "settle down" (literally – marrying Lee Ann) and return to making records. After recording two solo albums in 1993, his career took a bizarre turn. He and Russell Smith of The Amazing Rhythm Aces, Bernie Leadon of the Eagles and hit-songwriter Vince Melamed formed the band Run C&W. Taking classic soul songs of the 60's and 70's, they rearranged and performed them as bluegrass songs with comedic undertones.
Their antics led to recording two albums for MCA Nashville and gained them a worldwide cult following. (For a look at some other Run C&W shots from Jim's own collection, plus a few comments from Jim about his particular costume, click HERE).
Around the same time, he co-founded the band the Vinyl Kings, formerly known as The Fabulous Del-Beatles, a group of studio all-stars, which became the toast of the town. The Vinyl Kings have released two CDs of new songs, A LITTLE TRIP and TIME MACHINE, and are performing live after a long hiatus.
The 90's ended well for Photoglo: writing songs, performing and enjoying his status as one of Nashville's top songwriters. You Give Me Love (recorded by Faith Hill on her Faith CD) was chosen by NBC to close the final episode of Mad About You, starring Helen Hunt and Paul Reiser. The Meaning of Love (co-written and performed by Michael McDonald) was featured in the Mike Nichols' film What Planet Are You From?, starring Gary Shandling and Annette Benning.
Photoglo continued to perform regularly at Nashville's legendary Bluebird Café and tour solo, combining songwriter workshops with concerts at colleges, coffee houses and clubs around the country. Since 2000, he has released 4 critically acclaimed solo albums. Sparks In The Radio (2005), Is It Me? (2009), and Halls Of My Heart (2014) all had extensive play at Folk Radio. Halls Of My Heart contained the #1 most played song in August of 2014 (#25 for the year), as well as 2 more in the Top 20. It was the #3 most played album (#35 for the year) and he was the #4 most played artist. Is It Me? and Halls Of My Heart have both been nominated for Grammys.